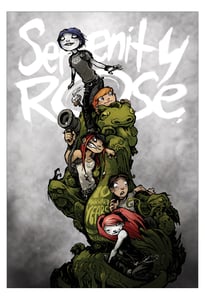 $

20.00 -

$

40.00
Signed hardcover collection.
Full color | 500 pages.
Personalization by request.
THIS IS IT!
HORROR. TERROR. CRIPPLING SOCIAL ANXIETY. The whole ten year run of Aaron Alexovich's SERENITY ROSE dark comedy comic in one gargantuan hardcover edition.
SERENITY ROSE is 4'10", painfully shy, and totally into girls (shhh). She can also conjure MONSTERS out of ectoplasm, HOVER 20,000 feet in the air, and SHAPESHIFT anything she sees. Sera is a WITCH, one of only 57 the world over, a real supernatural oddity. And sadly for her, she lives in the glare of a tiny tourist trap that THRIVES on supernatural oddities. Such fun!
Fresh off a blazingly successful Kickstarter campaign, this full-color omnibus hardcover includes:
- All three Serenity Rose books
- The full "Vicious Whispers" web series
- The never-before-in-print Halloween short
- 16 pages of behind-the-scenes extras and archival material
- Guest art by Jhonen Vasquez, Faith Erin Hicks, Sophie Campbell, Jamie Smart, Blue Delliquanti, and more
DAMAGED COPIES - Occasionally I run across copies with minor dents and dings to their covers. (Or maybe I screwed up the autograph and had to black it out) They'll be listed here at $20 as we find them.
Looking for the DIGITAL version? Click HERE or go to one of the following fine pixel vendors:
AMAZON KINDLE
DRIVETHRU COMICS
ITCH.IO
HIVEMILL